Humanitarian Assistance & Disaster Relief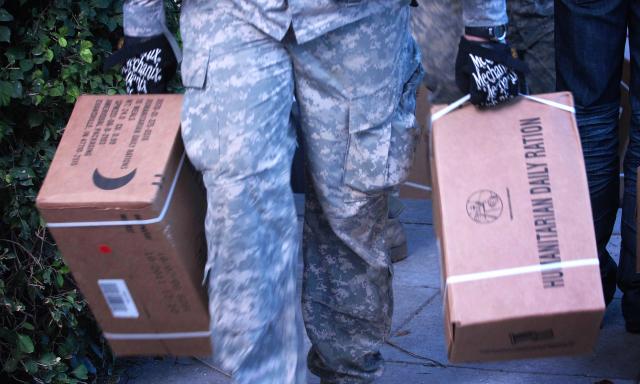 JTLS-GO is a proven modeling and simulation (M&S) tool used for training senior and mid-level leadership to understand how to more effectively deal with Humanitarian Assistance and Disaster Relief (HA/DR) events. This training tool has been used at the regional and national levels to support training exercises and contingency plan analysis centered on strategy, decision-making, policy/resource issues and lines of authority that require participation of senior-level leadership.
Training event may be designed to address single or multiple disaster scenarios with a variety of disaster relief and recovery operations. For example, major area flooding that results from a dam breach, or a hurricane affecting a coastal environment, can be simulated using JTLS-GO capabilities to represent weather conditions, geographical areas, terrain characteristics, and major facility failures. In addition, weather disruption to aviation schedules, crop or fire damage, earthquakes, landslides, and major facility or power grid failures may be experienced by using the Simulation. Subsequently, relief efforts comprised of various tactics, techniques and procedures can be attempted and assessed. Personnel, land vehicles, watercraft, and aircraft can be used to effect rescue or assistance; medical support for and evacuation of civilians can be evaluated; logistics issues such as supplies, stock levels, and availability of food and medicine may be represented; civilian and military forces can be deployed.
Our clients use JTLS-GO to train senior leadership on effectively analyzing and managing regionally specific HA/DR training scenarios. These training exercises have included simulating disasters such as the dam breaches, nuclear disaster, fire, and hurricanes mentioned previously. In addition, floods, railroad crash w/chemical contamination, and various other disasters have been simulated using JTLS-GO. Training exercises result in a better understanding of how to plan for these types of disasters and how to utilize resources. The use of JTLS-GO has helped to analyze and develop appropriate contingency plans and COAs.
Equipment Required: JTLS-GO is an interactive, computer-based simulation that runs within a small, resource efficient, cost effective footprint. Tabletop PCs and laptops using the Linux and Windows operating systems constitute the technology suite to execute the Simulation. Its documentation suite is extensive and training is readily available.
For additional information on how R&A and the JTLS-GO system can support your agency HA/DR training needs contact Dr. Ronald J. Roland by email or phone: President@ROLANDS.com, 831.373.2025.